Physical Education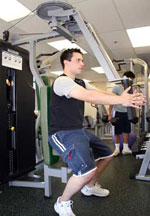 Course Description
5 credits each
Physical Education 10 / 20 / 30
With an emphasis on the students' individual sport, health and fitness goals, the Centre High Campus Physical Education Program is based strongly on nutrition, wellness and resistance, cardiovascular, and flexibility activities. As each student comes with their own level of experience, the activities in their PE program are tailor made to fit the individual, while meeting the expectations of the three PE levels.
Specific Expectations:

Phys Ed 10 - Increasing individual awareness in the aspects of active living through participation and skill acquisition.
Phys Ed 20 - Applying knowledge of active living through participation, leadership development (5 hours required), and completion of a CPR course.
Phys Ed 30 - Evaluating application of active living for self and peers through participation, leadership development (8 hours required), and completion of a First Aid Course.
Sports Performance
5 credits
This course focuses on the practical application of developing physical fitness and strength competency using strength type training. With individualized programming students will develop fitness related skills that will be essential to creating an active, healthy lifestyle. Specific growth is dedicated towards athletic high performance considerations, body management, nutrition, sports psychology, goal setting and personal development. Students who participate in the course will be well on their way to gaining confidence in a fitness setting as well as developing their own physical fitness.
Prerequisite: none